Designed for maintenance charging (trickle-charging) 12V lead-acid batteries that power jet-ski's, motorcycles, ride-on lawn mowers, surveillance camera systems, home irrigation systems, electric fences, electric gates and garden lighting.
Requires regulations from solar charge controller.
Suited to KT Solar Controller Model No. KT70755 – 8 Amp PWM Solar Charge Controller.
Easy direct connection to batteries with 3M PV cables with positive
( + ) & negative ( – ) alligator clamps.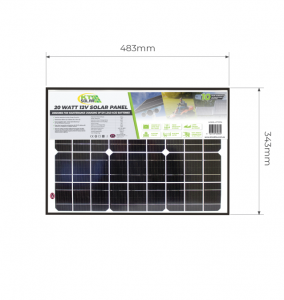 Dimensions & Weight:
Dimensions (Height): 483mm
Dimensions (Length): 343mm
Dimensions (Depth): 17mm
Panel Weight: 1.80Kg
Features:
Designed for maintenance charging (trickle-charging) of 12V lead acid batteries that power jet-skis, motorcycles, ride-on lawn mowers, surveillance camera systems, home irrigation systems, electric fences, electric gates & garden lighting
Requires regulation by solar charge controller
Easy direct connection to batteries with 3M PV cables with positive (+) & negative (-) alligator clamps
Warranty & Guarantees:
10 Year Warranty on Manufacture & Build
25 Year Efficiency Guarantee
National Warranty Programme
Specifications:
| | |
| --- | --- |
| Power Tolerance | +3% |
| Maximum Power (Pmax) | 20Wp |
| Maximum Power Voltage (Vmp) | 18.1V |
| Maximum Power Current (Imp) | 1.11A |
| Rated Voltage | 12V |
| Open Circuit Voltage (Voc) | 21.6V |
| Short Circuit Current (Isc) | 1.21A |
| Operating Temperature | -40°C to +85°C |
| Product Application | Class A |
| Max System Voltage | 1000V DC |